2010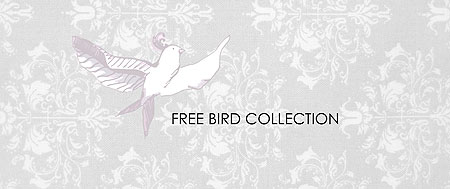 Free Bird Collection By Anne Jung
From 21.05.2010 untill 3.6.2010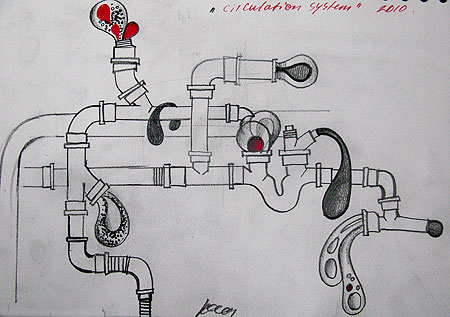 CirculationSystem By Maria Kosh
From 4.6.2010 until 2.7.2010
---
2008



Anja Aagaard Eriksen
Galleri Iron Inc. presents Spot in the Sun

Summer Exhibitions

An exhibition that changes every 1-2 weeks with a focus on Nordic jewellery artists and designers. Artists exhibiting are Ami Avellan (FIN/NOR), Anja Aagaard Eriksen (DEN), Karen Fly (DEN), Wilfred Lawrence Gachau (KEN/DEN), Eero Hintsanen (FIN), Lone Kejser (DEN), Mari Keto (FIN/DEN), Peggy Kortenbach (DEN), Philipp Spillmann (NOR/SUI), Tarja Takalo (FIN/DEN) and others.
---



Hilde De Decker
17 May - 17 June 2008
Opening 17 May 2-4pm
Born 1965, Dendermonde, Belgium, studied interior design (1983-85) and jewellery design (1985-89/2004-05) in Antwerp, Belgium. Her solo exhibitions consist mainly of jewellery works, but in recent years her monumental compositions have encountered a growing success. These installations give the jewellery pieces an extra dimension as an artistic medium that makes values, techniques and materials secondary. De Decker rarely works on a commission basis. The edition of a silver collection, designed by the Italian architect Andrea Branzi, is a noteworthy exception. Since 2000 she has taught at the Gerrit Rietveld Academie, Amsterdam and also gives lectures and workshops at different art schools around the world.
De Decker says, "I don't aim to please or to shock people. I am only exploring the limits of traditional jewellery, escaping involuntary conventions and conformities. Interacting with other disciplines in the arts, transposing techniques, desecrating materials, copying abandoned or ordinary objects... it all happens purely intuitively. My jewellery refers rather to human nature, to the fragility of life and all the deficiencies and imbecilities we encounter. The banality of every day life and all the small but amazing miracles that show up in the middle of this banality, strikes me."
Hilde De Decker RinGO8 Workshop
De Decker is appearing at RinGO8, the Annual International Jewellery Workshop in Denmark from Monday 19th May to Saturday 24th May 2008 at Kunsthøjskolen i Holbæk (The Art Folk High School), Holbæk Slots Ladegård, Ladegårdsalléen 5, 4300 Holbæk, Denmark. RinGO8 is supported by Danmarks Nationalbanks Jubilæumsfond af 1968, Kjøbenhavns Guldsmedelag and Metal Vennerne.
Opening 17th May 2-4p
---


Minna Karhu
pro.KORU II Finnish Contemporary Jewellery Exhibition
4 April - 10 May 2008
Opening 4 April 5-7pm
Galleri Iron Inc. presents the exquisite jewellery design of 33 Finnish jewellery artists and designers. All of the exhibition pieces have been selected by Kirsti Doukas, the head designer of Kalevala Jewelry. According to Doukas, the pro.Koru II exhibition shows the wide development of what is happening in today's Finnish jewellery spectrum. Doukas says, "On one hand there is an approach towards contemporary jewellery art and on the other to jewellery design. The exhibition gathers together both the work of young artists at the beginning of their careers and work from well-known and experienced creators. In many of the chosen works for the exhibition can be seeing the innovative personal style and the mastering of expression tools."

Invited Artists

Inni Pärnänen, Chao-Hsien Kuo, Juha Koskela, Heli Kauhanen, Elina Makkonen, Taru Tonder, Tuija Hietanen & Kaisa Vuorinen.

Juried Artists

Ami Avellán, Melitina Balabin, Nikolai Balabin, Carina Blomqvist, Eero Hintsanen, Jari-Petteri Hänninen, Minna Karhu, Minttu Kettunen, Nestori Koistinen, Mauri Kuorilehto, Riikka Latva-Somppi, Eero Lintusaari, Niina Mahlberg, Timo Mustajärvi, Anna Marianne Rintanen, Mauri Sarparanta, Essi Sikanen, Lea Swantz, Mari Syrén, Kirsti Taiviola, Tarja Takalo, Minnamarina Tammi, Elo Uibokand, Marjut Viitanen & Eeva Väänänen.


Embassy of Finland Copenhagen, Institute of Finland Copenhagen & Finpro Denmark.
---


Nanna Melland
With Heart
14 February - 15 March 2008
Opening 13 February 5-7pm
The heart is a widely used symbol in the world of jewellery but yet there is still surprising variations. With Heart is a jewellery exhibition built around the theme of heart. Over 30 international artists were invited to exhibit their works based on this idea and to celebrate Galleri Iron Inc.'s second birthday. Each participant offers their own perspective from kitsch to pure gold, ranging from heart shaped porcelain geisha balls to a true love of melamine cups.
The participants represent the diversity in modern jewellery design. They are designers, craftsmen and others working in the various branches of the industry to professionals whose work is known and recognised internationally. The idea of the exhibition was to seek a variety of interpretations from people with different backgrounds around the theme of heart. The meanings and quality they have put on their works are a guarantee for heart beats.
Anja Aagaard Eriksen, Annette Dam Knudsen, Bo Sonne, Christina Bizzarro, Ditte Stepnicka, Dorthe Wolff Sørensen, Gitte Bjørn, Gitte Nygaard, Inger Margrethe Larsen, Janne Krogh, Javier Moreno Frías, Karen Fly Melander, Kati Nulpponen, Lasse Bæhring, Lau Ebbesen, Lone Løvschal, Lonny Fechner, Louise Billgren, Maja Lykke, Maria Nuutinen, Marie-Louise Kristensen, Mervi Kurvinen, Mette Jensen, Mette Saabye, Nanna Melland, Peggy Kortenbach, Piia Keto, Sari Liimatta, Susanne Wendel, Wilfred Gachau & Åsa Haldin.
---